---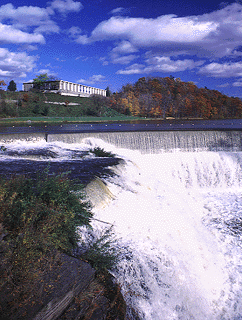 Cornell Topology Festival
May 2-4, 1997
---
You are cordially invited to attend the 35th Annual Cornell Topology Festival. There will be seven one-hour lectures and much opportunity for conversation.
The festivities will begin on Friday, May 2 with tea at 3:45 PM followed by the first talk at 4:30 PM, and will end about noon on Sunday. Click to see a detailed schedule of events, with links to abstracts of the talks.
---
Please note that the festival this year will begin on FRIDAY afternoon and continue until SUNDAY noon, unlike past years when it has begun on Thursday and continued through Saturday. Talks will be held in GOLDWIN SMITH HALL instead of in Clark Hall as in previous years.
---
Speakers
Lisa Carbone (Columbia University)
NON-UNIFORM LATTICES ON UNIFORM TREES

Bill Dwyer (Notre Dame University)
HOMOLOGY DECOMPOSITIONS OF CLASSIFYING SPACES

Mike Hopkins (Massachusetts Institute of Technology)
TOPOLOGICAL MODULAR FORMS

Bruce Kleiner (University of Pennsylvania)
THE LARGE-SCALE GEOMETRY OF SPACES WITH NONPOSITIVE CURVATURE

Michah Sageev (University of Southampton)
JSJ-SPLITTINGS FOR FINITELY PRESENTED GROUPS

Zlil Sela (Columbia University)
LOW-DIMENSIONAL TOPOLOGY, ALGEBRAIC GEOMETRY OVER GROUPS, AND THE ELEMENTARY THEORY OF FREE GROUPS

Zoltan Szabo (Princeton University)
DISPROVING THE MINIMAL CONJECTURE
---
Please respond via the response form or by email to mmk8@cornell.edu.
Click here for information on housing.
NEW!! Graduate students! Click here to request housing with Cornell graduate students.
Click here for a complete Schedule of events.
Click here to sign up for the Banquet
Click here for zoomable maps of Ithaca and the Cornell Campus. Talks will take place in Goldwin Smith Hall, located in the Arts Quad of Cornell.
---
Questions and comments may be addressed to: mmk8@cornell.edu
---