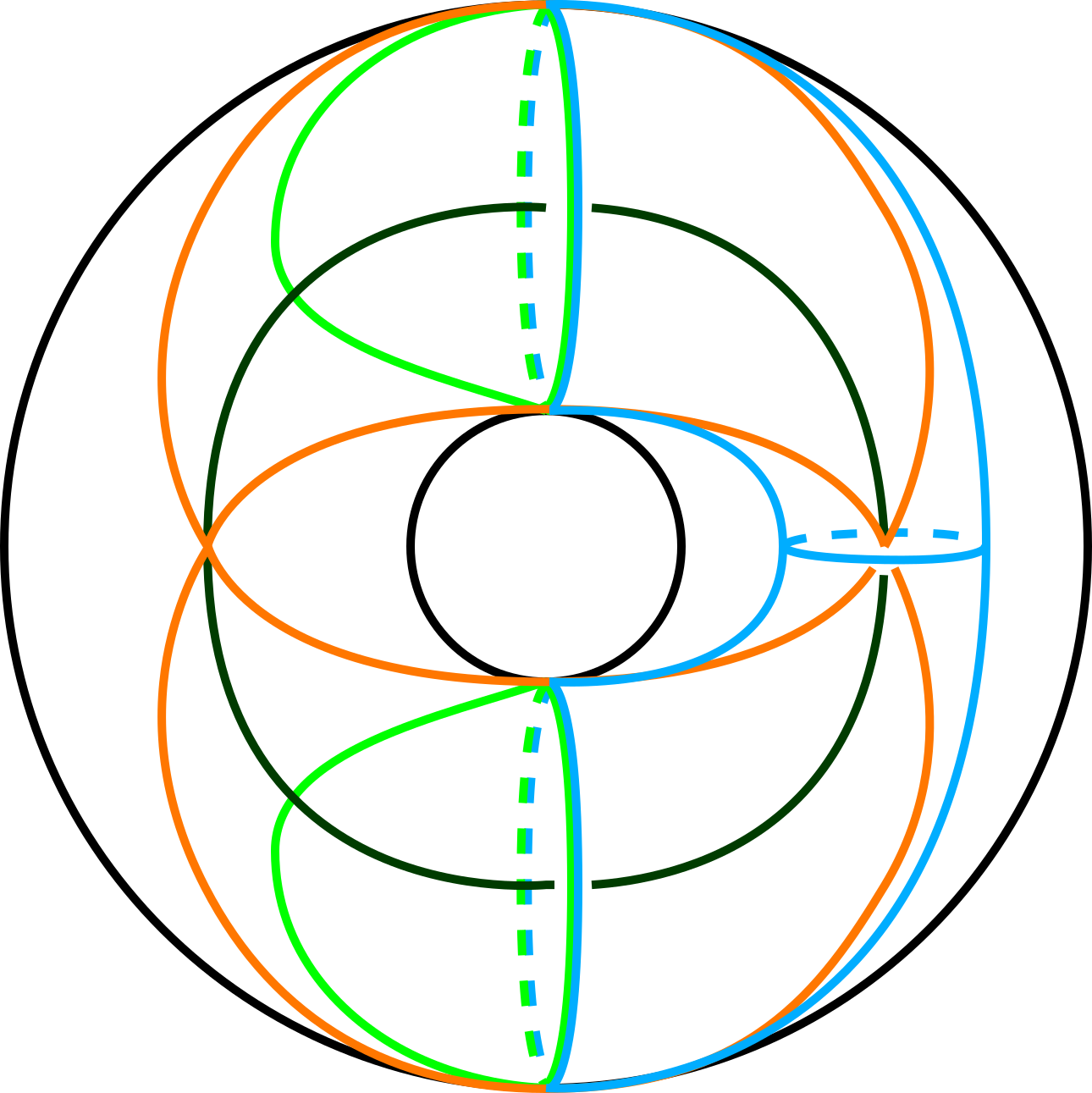 The SL(2,R) "banana" helps us to compute Conley-Zehnder indices in three dimensions.
My research investigates two intertwined themes. What can we learn about two-dimensional dynamics and four-dimensional symplectic embeddings via three-dimensional contact geometry (specifically, from the invariants of embedded contact homology)? And how can we leverage low-dimensional topology to compute these contact invariants? Key tools I use are open book decompositions, torus and circle actions on three- and four-manifolds, and symplectic fillings/cobordisms.
Code: Much of my research relies heavily on computer programs. Soon I will set up a GitHub page, but for now, if you are interested in Mathematica code related to lattice path combinatorics, please contact me.
In Preparation
Quantitative cobordism for transverse knots, with Agniva Roy and Yuan Yao. We use the knot filtration on ECH to obstruct small symplectic cobordisms between knots in the standard three-sphere. Conversely, we construct such cobordisms to prove that our bounds are tight.
Preprints
Torus knotted Reeb dynamics and the Calabi invariant, with Jo Nelson. We compute the ECH knot filtration for general torus knots in the standard three-sphere and apply our computation to prove a quantitative existence result for periodic orbits of symplectomorphisms of surfaces with one boundary component in certain periodic isotopy classes.
A classification of infinite staircases for Hirzebruch surfaces (2023), with Nicki Magill and Ana Rita Pires. We complete the proof of a 2020 conjecture of Cristofaro-Gardiner--Holm--Mandini--Pires. Along the way, we complete the classification of Hirzebruch surfaces into those which do and do not have ellipsoid embedding functions infinite staircases which was conjectured in Staircase patterns in Hirzebruch surfaces.
Torus knot filtered embedded contact homology of the tight contact 3-sphere, with Jo Nelson. We compute the ECH chain complexes of contact forms adapted to the open book decompositions with the positive T(2,q) torus knots as the binding, extending our work on prequantization bundles by veiwing their Reeb flows as Seifert fibrations. In particular, define the ECH knot filtration for certain degenerate elliptic orbits and compute it.
Published or Accepted