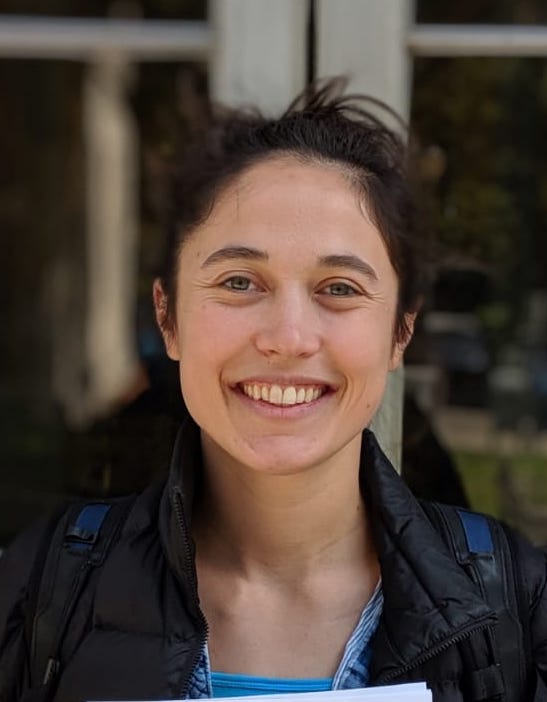 Me in 2019.
I am an NSF Mathematical Sciences Postdoctoral Fellow at Cornell University, sponsored by Professor Tara Holm. Cornell University is located on the traditional homelands of the Gayogo̱hó꞉nǫ' (the Cayuga Nation): land acknowledgement.
My interests are in symplectic and contact geometry and interactions with low-dimensional topology and dynamics. Specifically, I use embedded contact homology to understand Reeb dynamics on contact three-manifolds, with applications to dynamics on surfaces and four-dimensional symplectic embeddings. MSC 53, 57, and occasionally 37.
Media: recently, an article about my research on 4D symplectic embeddings appeared in Quanta.
In 2019 I graduated from the University of California, Berkeley, where my thesis advisor was Professor Michael Hutchings. From 2019-2021 I was an RTG Lovett Instructor at Rice University, mentored by Professor Jo Nelson.
Information
Upcoming Conferences and Travel
Joint Georgia Tech-UGA Topology Seminar, October 16, 2023, Atlanta, GA.
AMS-AWM Special Session for Women and Gender Minorities in Symplectic and Contact Geometry and Topology, Joint Mathematics Meetings, January 5, 2024, San Francisco, CA.
You may have met me recently at...
Dynamische Systeme, July 9-15, 2023, Mathematisches Forschungsinstitut Oberwolfach, Germany.
Symplectic Dynamics, INdAM, May 22-26, 2023, Rome, Italy.
Cornell Topology Festival, May 2023, Ithaca, NY.
Interactions between Symplectic and Holomorphic Convexity in 4 Dimensions, April 2023, BIRS, Banff, Canada.
University at Buffalo geometry and topology seminar, February 2023. Buffalo, NY.
Floer homotopical methods in low dimensional and symplectic topology, November 2022, MSRI/SLMSI, Berkeley, CA.
GATSBY seminar, November 5, 2022, Providence, RI.
MIT symplectic seminar, October 27, 2022, Boston, MA.
Edinburgh Algebraic and Symplectic Geometry seminar, October 12, 2022.
Perspectives in equivariant topology, October 2022, Cologne, Germany.
Convexity in contact and symplectic topology, a conference in honor of the 60th birthday of Emmanuel Giroux, July 2022, Paris, France. Slides from my talk on Staircase patterns in Hirzebruch surfaces, with a few typos fixed (in particular, Hind-Lisi reference added.)
Kylerec: Quantitative symplectic geometry, June 2022, Truckee, CA.
Cornell Topology Festival, May 2022, Ithaca, NY.
Braids in Low-Dimensional Topology, April 2022, Providence, RI.
Videos
My mathematical YouTube channel.
6/5/20: I spoke about Infinite staircases for Hirzebruch surfaces in the Symplectic Zoominar. This 20-minute Zoom talk can be viewed here; slides. The main theorem is now stronger than it was on 6/5/20.
5/1/20: I spoke about Embedded contact homology of prequantization bundles in the Western Hemisphere Virtual Symplectic Seminar with Jo Nelson. This Zoom talk can be viewed here; slides.
12/3/18: I spoke about my thesis work Mean action of periodic orbits of area-preserving annulus diffeomorphisms at the IAS. This talk can be viewed here.